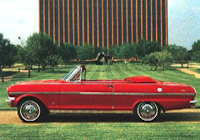 We are an authorized Classic Industries–OER distributor, as well as other specialized manufacturers like American Autowire, Ted Williams and Repops–Montco. As a small regional vendor, we currently stock a limited supply of new reproduction and aftermarket Chevy II parts and accessories. This is mainly comprised of the common and in demand items. We add new inventory – both new and used – regularly.
We can order in or drop-ship most reproduction parts currently on the market.
Feel free to contact us regarding parts you are looking for, new or used. You can also visit our eBay store.
These are some of the new reproduction parts that made it to market in the last year or so.
• 1962 Nova Exterior Grill w/ Brackets
• 1962 Nova Grill Bracket Kit
• 1966 Super Sport Trunk Diecast Moulding
• 1965 Nova Exterior Grill w/ Brackets
• 1965 Nova Grill Bracket Kit
• 1964 - 65 Chrome Seat Belt Retainer Bolts
• Numerous Replacement Rear Body Panels (1st & 2nd Gen)
• 1965 - 67 SS Auto Shifter Boots
We are a supporter of the emerging "fair shipping" practice – we do not make money off shipping. Shipping charges are carrier plus business costs – container, packaging, labels, tape, etc. Over-sized items we do charge a handling fee of $20 per hour to cover the time to properly pack the item (sometimes many hours). Normally small items are sent USPS, larger items parcel ground service.