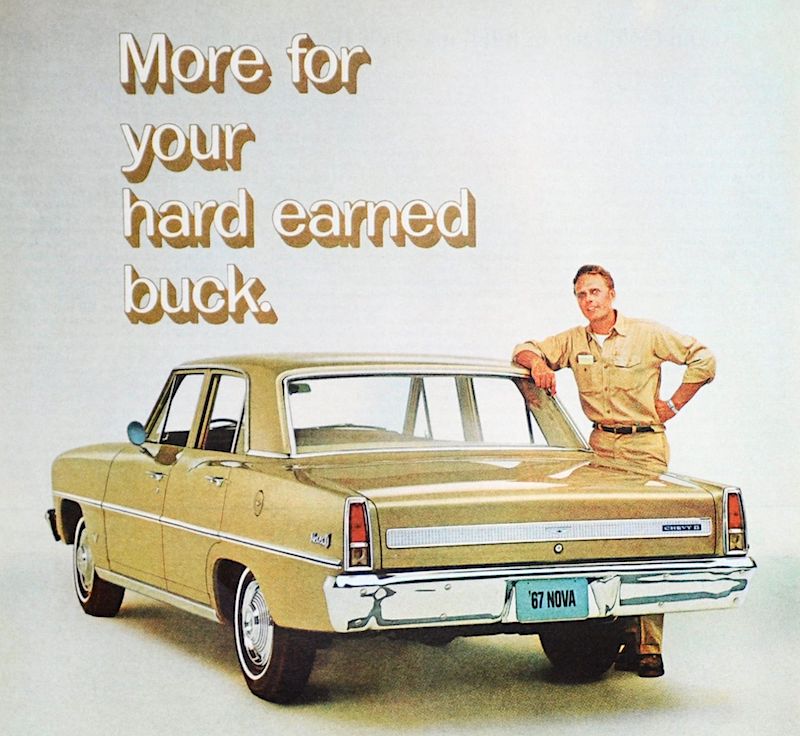 A
common misconception is the 1966 and '67 Chevy II (a.k.a. 2nd generation Nova) are the same car, which Chevy just made some upholstery and trim changes to. In reality there are quite a few differences between the two model years, some of them major, with numerous "one year only" parts to be found on both (often mis-advertised as fitting either year by hobbyists and vendors alike). Here we explore the generally known, and not so well known, differences between the two.
We are going to list WHAT is different between '66 and '67, not necessarily WHY. That would take way too long. Saying a part or design is different does not mean it would not interchange between years, but often it will not. We define interchangeability as bolting in or installing without modification—a proper replacement. Because someone cut and welded the part in place does not make it a proper interchange.
This list is by no means complete and not intended to be. It will not delve into the minutia like variations in hardware, finishes or assembly procedures. Its purpose is to cover the common parts people often need to replace and will run across for sale new or used (again often mis–advertised). Like some of our other references, it will hopefully save some headaches and extraneous purchases when sourcing parts.
Good to Know—Safety & Emissions Regulations Arrive
GM made numerous body, interior and mechanical changes for the 1967 model year across all passenger cars and trucks. A prominent factor in these changes were the new Federally mandated vehicle safety regulations. These regs impacted the design and implementation of parts such as seats and seat belts, steering columns and brake system components. Combine that with the normal topical changes GM would implement each year to make the new model unique, and you have a tangibly different car. (The Chevy II was never exactly the same year-to-year).
In this period state and local "anti-glare" regulations also started appearing impacting outward facing chrome and stainless parts. Examples of this would be the chrome wiper blades and arms being changed to a matte steel. The spinner hub cap bans were probably gaining momentum around this time as were the advent of vehicle emissions standards (think California).
All things to be aware of, especially when undertaking a correct restoration. Where, when and how some of these changes were implemented is up for debate. Some were likely phased in as factories used up all the previous stock. Many likely had design revisions as production went on and problems surfaced. And no doubt parts of earlier designs were installed as service replacements by both mechanics and owners.
Body
The outer body is the area of the most obvious dissimilarities between the two model years, particularly the front of the car. Working from front to back you will run into the following differences:
Grill, grill emblem (std. & SS) and all mounting brackets.
Hood latch and center support bracket; hood trim.
Headlamp bezels, buckets and related mounting brackets.
Fenders; driver's side subframe assembly (shock tower area).
Doors (inner skin structure), upper door hinge and its retaining bolts. The door handle relay is also unique to each year.
Deck lid large center die–cast emblem and mounting holes for the trim.
Radio antenna.
Hub caps; 1967 had a Rally wheel option as well.
Exterior body trim and mounting clips.
GM changed the hues of some exterior paint colors between the two years, Marina Blue being the prominent example.
Interior
There are some substantial differences with interior components between the two years. Things that can cause major installation headaches if you get parts mixed up. These parts used (and usable) GM are getting scarce and EXPENSIVE. When shopping for a car definitely try to get a complete or near complete interior. Here are some differences to be aware of:
Steering column assembly basically top to bottom—'67 is the first year of the collapsible column. Also, how column mounts to the dash and related brackets; column-to-firewall mounting plate (bracket) and seal.
Steering wheel, horn button and ring—across all models (100, 400 & Super Sport).
Turn signal switch; turn signal and shifter levers (arms or "wands").
Instrument cluster body and speedometer face (minor differences); dash harness.
Differences in the stamping of the metal dash frame, specifically where there steering column mounts & the spacing between the headlamp & wiper switches.
4-way hazard switch standard in '67 (part of steering column), no longer a bolt-on accessory.
Park brake warning switch and dash lamp integrated and standard in '67.
Dash pad and dash knobs; ignition chrome bezel.
Kick panel vent pull knobs.
Radio knobs and black push (Wonderbar) buttons on deluxe radio. It appears the fader knob is unique to '67 (this may not be a hard rule).
Wiper switch and bezel (yes the bezel is different).
Glove box door face trim and emblem (400 & Super Sport models).
Rear view mirror bracket had a plastic cover in '67.
Window crank handles—small knob vs. big knob (most repops you see for either year are incorrect. We carry the correct ones). 1967 also had interior color-keyed knobs.
How the door locks from the inside—'67 has the little chrome lock knobs.
Seats, bucket or split bench, front and rear—'67 introduced seat locks and the rear seat is bolted in.
Seat belts and anchor bolts; related retainer and reinforcemnt plates that spot weld to the underside of the floor.
Coat hooks—'67 got the plastic ones.
Color-keyed, cardboard sail panels were standard in '67.
Upholstery colors—in 1967 black available in non-SS cars (this was a first), red interior became an SS only color & teal green was discontinued as an option.
Mechanical (Engine, Transmission, etc.)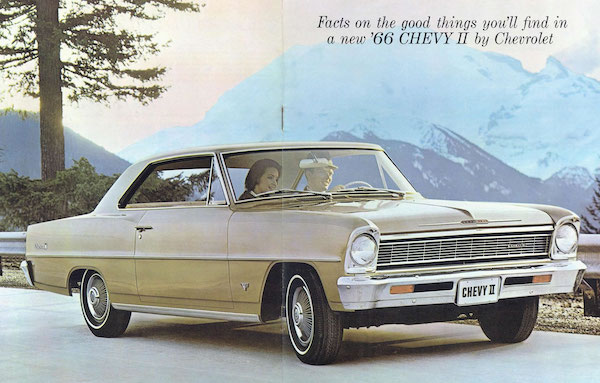 The large differences in this area are minimal, but if performing a "correct" restoration, realize part or casting numbers, date codes, nuts, bolts, finishes, assembly procedures, etc. often varied from year to year with the same parts. GM continually fiddled with and revised parts, often in ways that are easy to overlook (and make sense of).
1967 debuted the two circuit brake hydraulic system which brought with it the dual chamber master cylinder, different brakes lines, brass junction blocks and related hardware. The power brake boosters also had variation. 1967 was the first year of the rare disc brake option.
Brake pedal—manual & auto trans—is different, as is the pedal hanger brace inside the dash.
Steering knuckle (brake spindle) though interchangeable, has rarely noticed differences between '66 and '67.
Carburetor, air cleaner and valve cover designs were changing in this period to accomodate emissions equipment. Differences could be based on very specific factors besides model year, such as engine option and sales destination (i.e. California). This is in addition to the normal changes GM would make as old parts were revised or new ones introduced. The point is, there are differences between the two years with these parts.
The L79 was not available for most of the 1967 production year. When it was an option, it had multiple major differences from the '66 version, namely intake, carb, air cleaner and horsepower rating.
4-speed transmissions—1966 had both the Muncie and debut of the Saginaw. 1967 only had the Saginaw, as the Chevy II had no optional engines with a horsepower rating that would invoke the installment of a Muncie (its use was based on horsepower ratings once the Saginaw appeared).
The 250 CID L6 debuted in 1967.
It is believed the L77 283 was not available in 1967.
There is indication dual exhaust was no longer a factory option on wagons.
1967 used an updated battery design with different cables and the junction block on the inner fender (of little importance on modified cars).
Miscellaneous
In general all wiring harnesses—dash, light, engine, etc.
Windshield wiper system—by '67 two-speed wipers w/ washer were standard, so the related wiring became part of the light harness, it was no longer a unique sub-harness. This also impacted the terminal board design on the motor with '67 normally having three versus four terminals in prior years.
Gas tank mounting straps—'67 introduced the front of strap body bolt.
END
Last updated Dec 12, 2020